News archive
November 2008 news
Pre-release Banjo patch announced
Banjo's dropping in any day now, but the game demo's reportedly tiny text on good old standard definition TVs didn't score it any points. Thankfully Rare's not letting us down:
"It has come to our attention that people are experiencing subtitle readability issues with Banjo-Kazooie: Nuts & Bolts on Standard Definition TVs. We would like to assure you that contrary to earlier reports, we are aware of the issue and currently working on a title update to be released within the next 30 days that will fix it for those with Standard Definition TVs. We're committed to ensuring all fans of the franchise are able to have the best experience possible with Banjo-Kazooie: Nuts & Bolts."
Nice one!
November edition of Scribes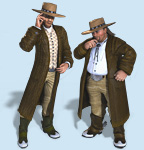 Rare's latest edition of Scribes for November comes packed with Banjo Q and A's as the game inches closer to release, but there's a few Perfect Dark-related tidbits with answers straight from the main man Duncan Botwood:
If we can hope to see other Rare N64 classics arrive on the Xbox Live Arcade Service after the Banjos:
"Each one of those is a different kettle of fish, so you may safely assume nothing of the sort! Well, except for Banjo-Tooie, that one's kind of confirmed."
On the topic of a counter-operative mode for Perfect Dark Zero:
Duncan Botwood: "I am sorry to have to disappoint you, but we made the difficult decision not to implement such a mode during the main phase of the project, since it would have required far too much time to do when we were already under pressure to cut planned content. It would have required much groundwork to be laid in the core AI code, which meant that it was unlikely to be available as downloadable content post-release. The project has long since been wrapped up, and we have no plans to add any more content to Perfect Dark Zero."
Where/when/if the timeline for the next game will take place:
Duncan says: "If and when Rare come to make another Perfect Dark game, rest assured we will consider placing it before, after or during the timelines of either one of the existing games."